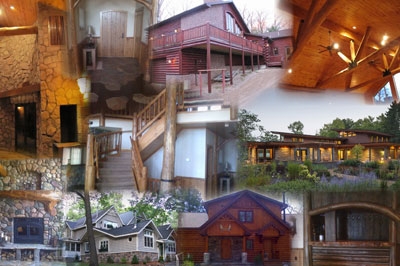 About Kuckkahn Construction
Kuckkahn Construction Inc. has been building homes in the Lakeland Area and beyond since 1989.   Bill was born and raised here.  With many years of construction experience behind him, beginning as a part time job during high school,  then as a crew leader in a large construction company in Arizona, and subsequently, as foreman of a leading area home builder,  he brought to the company a diversified pallet of expertise.  Since that time, our company has grown both in size and in the many different types of building projects in which we have been involved:  residential new construction of different styles from ultra-modern to cabin-rustic; extensive remodeling and additions; landscaping; and   several commercial projects.  As our business has grown, so has our family involvement, now including a second generation of family carpenters.  We utilize "state of the art" technology along with our promise of "Quality Craftsmanship You Can Count On", which has been our motto from the beginning.  In this age, true carpenters with the attention to detail for which we are well known, are hard to come by.  We take pride in our log work, which has become our specialty. 
So many of our past customers are now numbered among our close friends.  The majority of our references come from these customers and the businesses we work with.  We also have a strong working relationship with many area subcontractors and suppliers, preferring to keep our material purchases local, whenever possible. 
We look forward to the new relationships we will establish in the future as we continue to build the Lakeland area.